QR Code Generator Hub app: A Low-Cost and Easy Ticketing Solution for Events on Shopify
Are you a Shopify store owner looking for an efficient, affordable, and hassle-free way to sell event tickets or admission passes? Look no further!  


In this article, let's discover the benefits of using QR Code Generator Hub app for Shopify. 


This cheap QR code ticketing solution offers a low-cost and user-friendly ticketing system for events on Shopify. It also allows you to create QR codes that can streamline your ticketing process and focus on delivering an unforgettable experience to your event attendees. 
Why Efficient Ticketing Matters? 
Before we dive into the features of the QR Code Generator Hub Shopify app, let's first discuss why ticketing matters for events.  


Effective ticketing is the backbone of any successful event – always remember that. It not only ensures smooth entry for your guests but also helps you track attendance and manage your event better.  


With the growing popularity of dynamic QR codes, they have become a must-have companion in the event industry, providing a secure and efficient method of ticketing. 
Understanding QR Code Generator Hub Shopify App 
QR Code Generator Hub is a powerful app designed to simplify your event ticketing process on Shopify. It's not just an ordinary
dynamic QR code generator
; it's a comprehensive tool that offers much more than meets the eye. This tool is completely free to use, making it suitable for an efficient Shopify ticketing system, especially for businesses of all sizes. 
Let's break down some of the key features of this free QR code generator that can benefit your event ticketing:
Custom QR Code Generation
QR Code Generator Hub enables you to create dynamic QR codes for each order. These QR codes serve as digital event tickets for your customers. When a customer purchases a pass or an admission ticket, they'll receive an order confirmation email with their personalized dynamic QR code, ready for use at your event. 
Scan History
Stay on top of your event's attendance with the QR Code Scan History feature. You can effortlessly track the usage of QR code event tickets in real-time, allowing you to monitor event entries and validate tickets to prevent fraudulent activities. Customize usage limits based on the type of event or product specifications. 
Branding and Customization Options
Make your QR code event tickets stand out by incorporating your brand identity and event theme. Add logos or embed information about the order within the QR code image to enhance the user experience. 
Multi-Purpose QR Codes
Analytics and Insights
Event organizers can access valuable data on ticket sales, scan frequency, and attendee demographics. Use these insights to refine your future events and marketing strategies. 
Seamless Integration
Integrating QR code event tickets into your Shopify store is actually very easy. Just copy and paste the provided code into your order confirmation email template, and your customers will have their personalized QR codes ready to go. We will dive deep into this in the next section.
Implementing QR Code Ticketing on Shopify: Step-by-Step Guide 
Here's how you can use the QR Code Generator Hub Shopify app:   


Step 1:
Access your Shopify store admin and go to the "Apps" section. Use the search bar to find and install the QR Code Generator Hub app. Alternatively, use this
link
to visit the app store directly.

Step 2:
Look for the "Order QR Codes" feature and access the "Setup Wizard" to generate QR codes.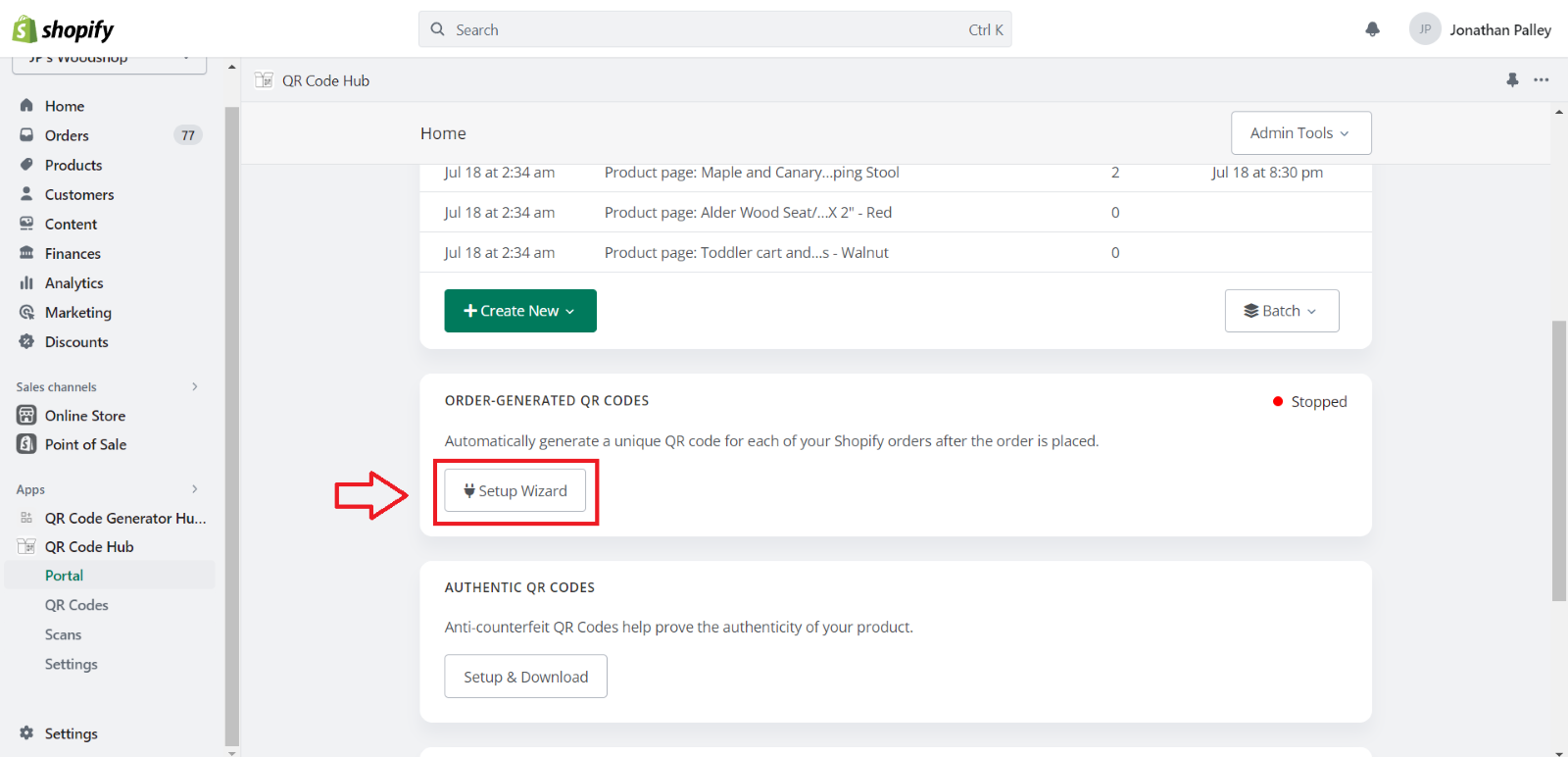 Step 3:
Choose "Show the Scan History of QR Code (for ticketing)," set the allowed dynamic QR code scans, and get creative with colors, styles, logos or frames using the customization panel.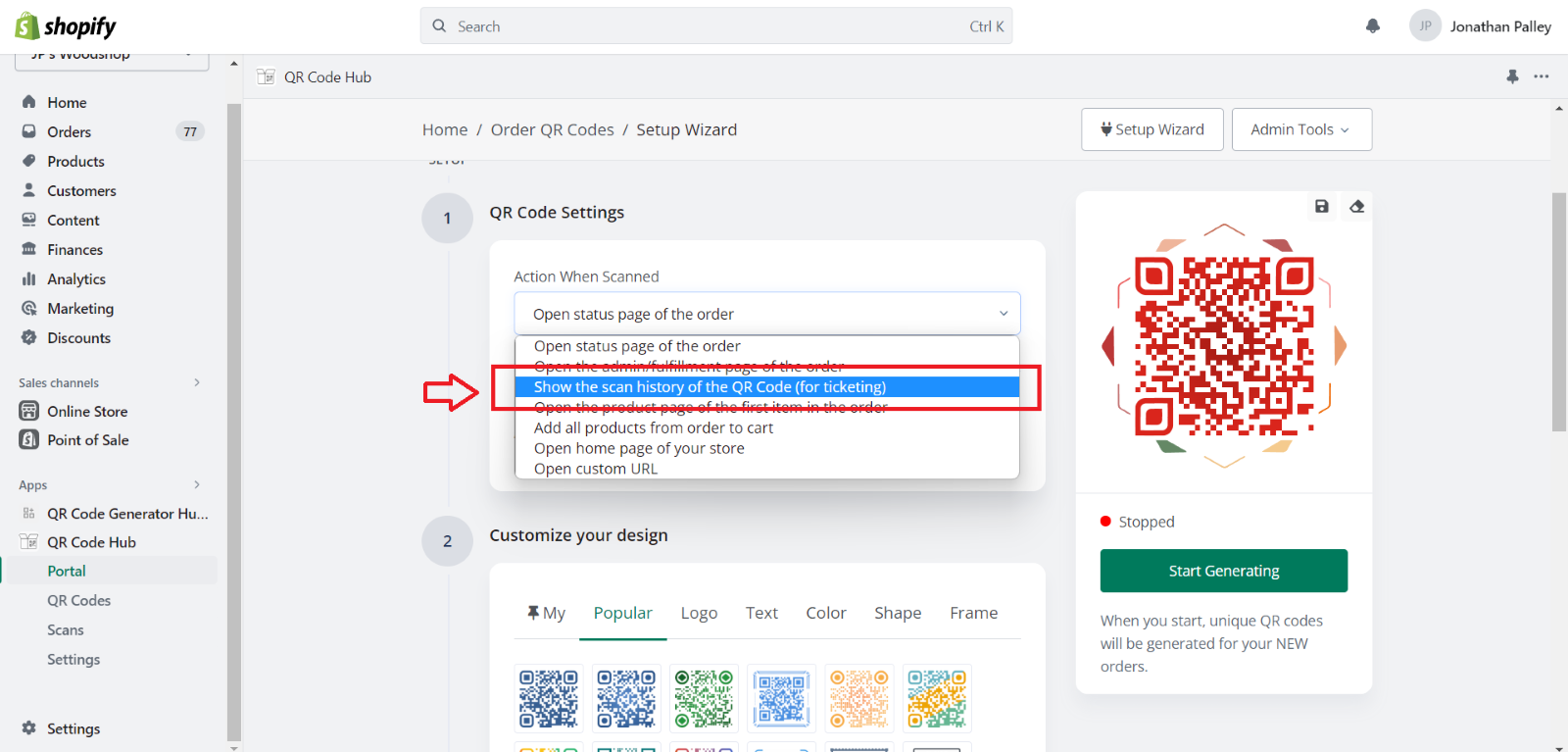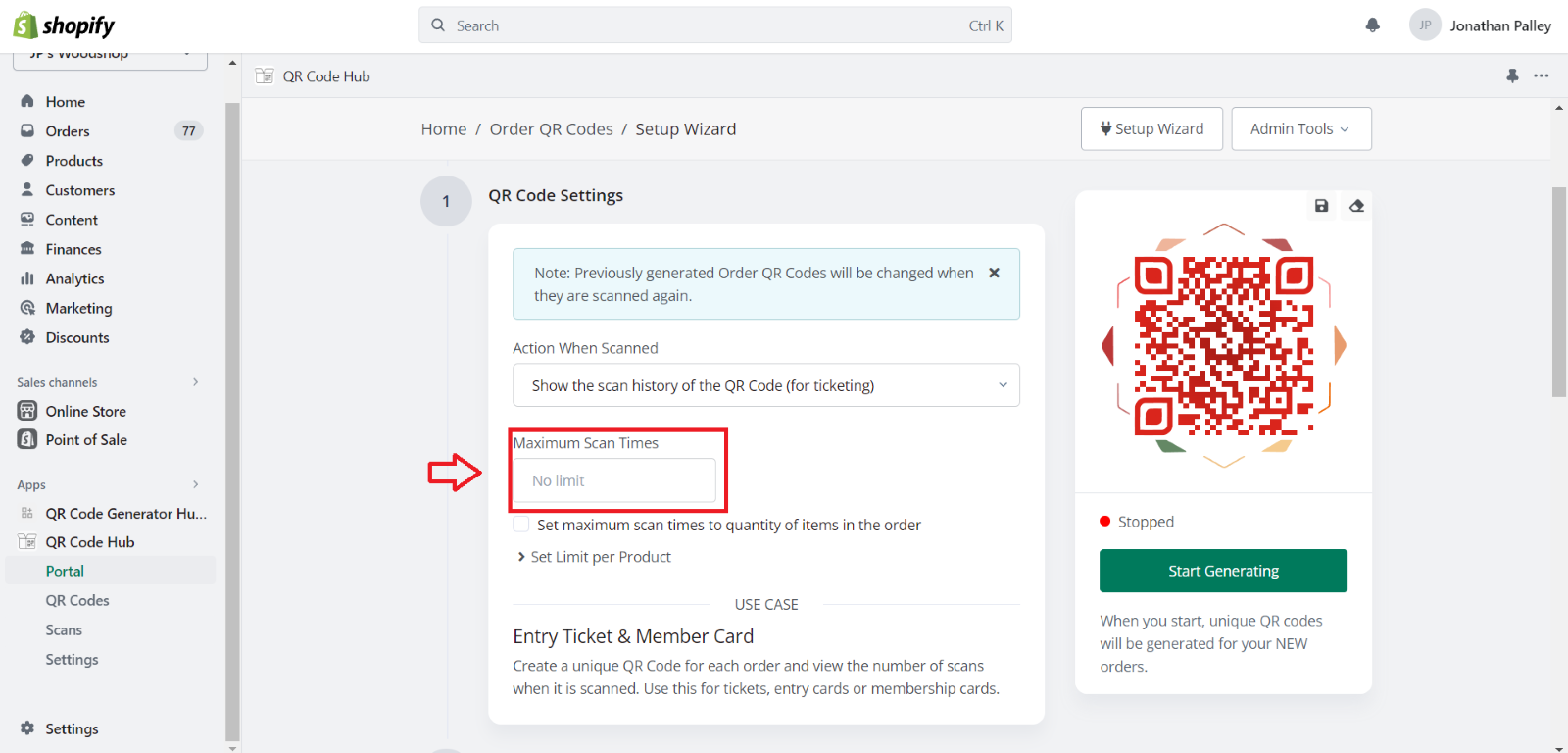 Step 4:
Paste the generated code into your order confirmation email template. Guests will receive their QR code tickets and event entry instructions effortlessly.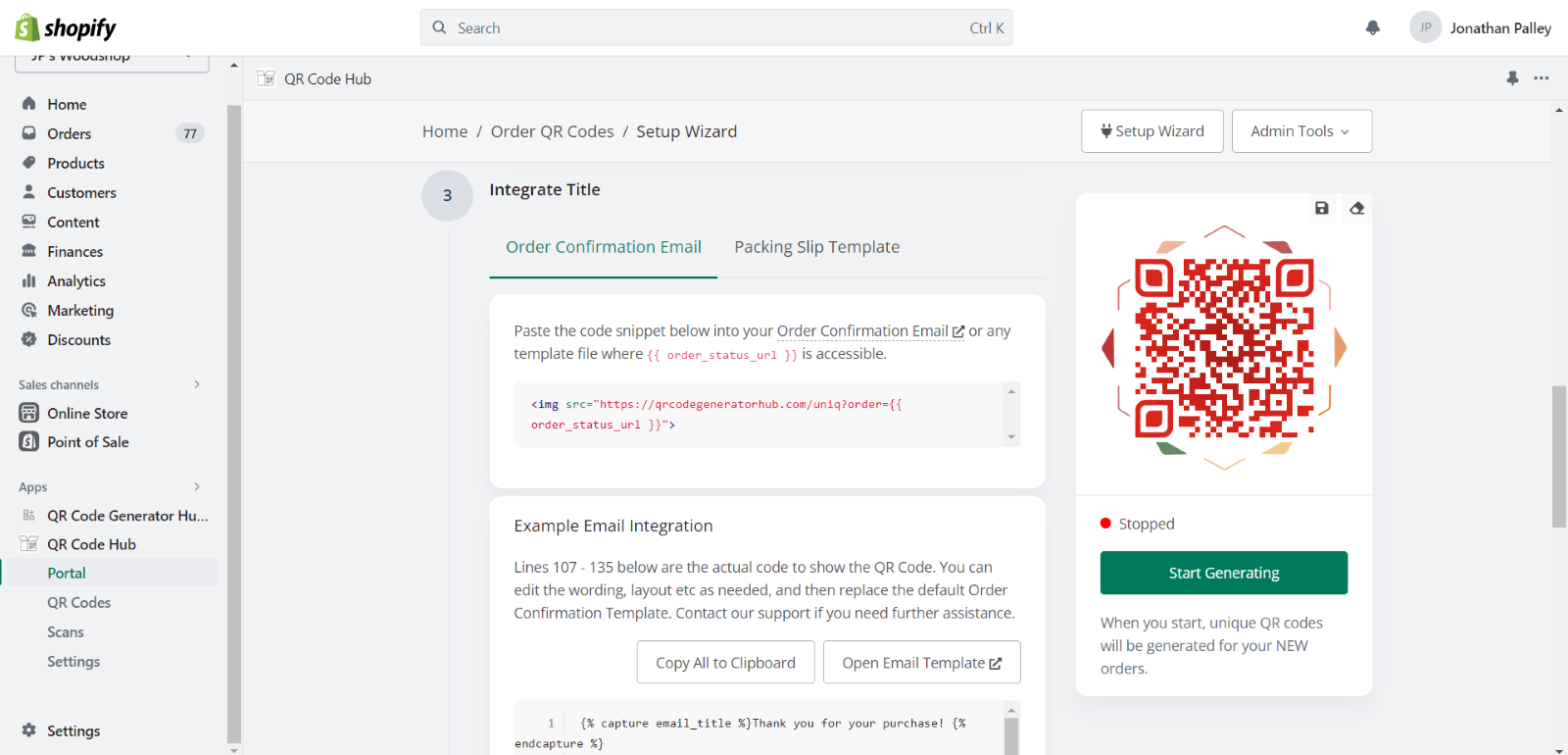 Step 5:
Integrate your custom QR codes into your Shopify store email order confirmation by clicking "Start generating".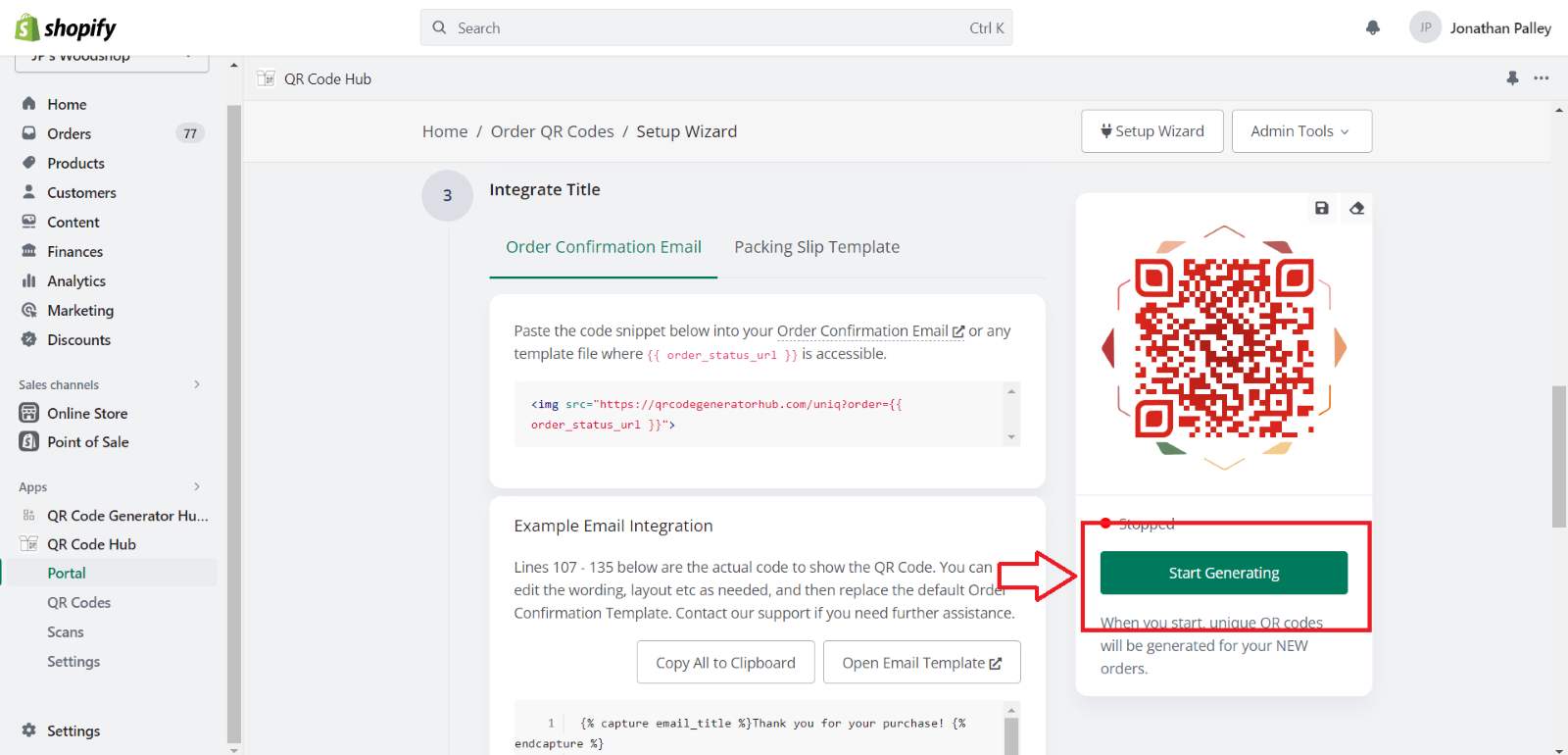 Conclusion 
These are everything you need to know about the QR Code Generator Hub app for Shopify.  


So if you are looking for a tool that can offer you and your event attendees maximum convenience, this app is your perfect all-in-one ticketing solution.  


Get started with the QR Code Generator Hub app today and take your event ticketing to the next level! For more, feel free to watch this
video
or check out our Shopify tutorial