Step-by-Step Guide to Selling Event Tickets on Shopify
Are you ready to sell event tickets like a pro on your Shopify store?  


In this step-by-step guide, we'll show you how to leverage the power of the
QR Code Generator Hub Shopify app
to create a smooth and cost-effective ticketing system for your events. Not only will this make ticket management more efficient, but it will also impress your attendees with a great experience. 
Getting Started with QR Code Generator Hub 
Wondering how to sell event tickets with QR codes? It is actually very simple and fast, especially with the help of the QR Code Generator Hub app. You don't have to be a pro in coding or an IT expert to you this tool to generate QR codes or embed them in your email.


All you have to do is follow this 5 simple step guide on using this free dynamic QR code generator.


Step 1:
To create QR codes,
start by accessing your Shopify store admin and navigate to the "Apps" section. Use the search bar to find the QR Code Generator Hub app. 

You can also use this
direct link
to access the Shopify app store. Once there, click the "Add app" button to begin the installation process.

Step 2:
Go to the "Order QR Codes" feature on the left side of the admin panel.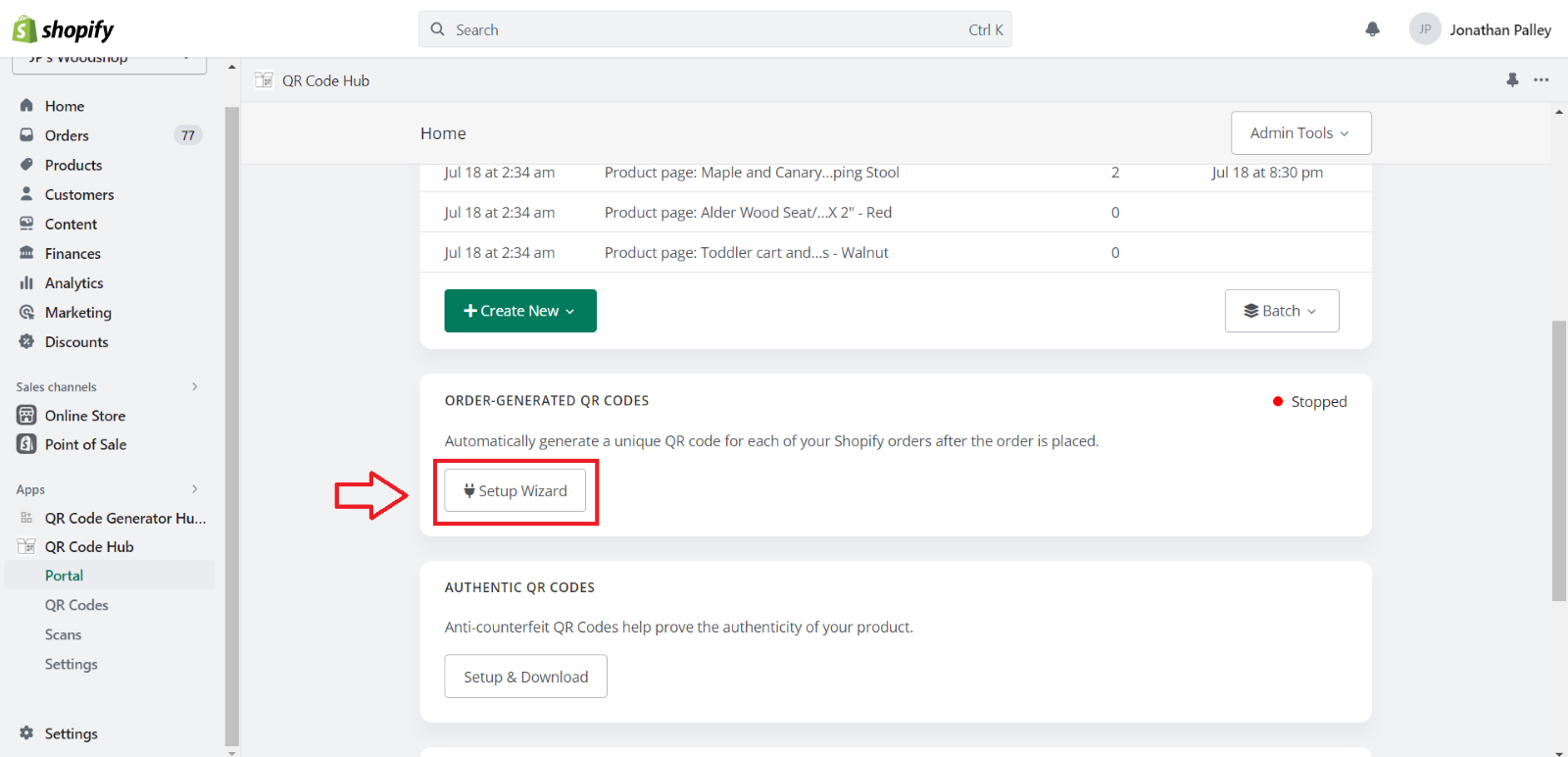 Click the "Setup Wizard" and opt for the "Show the Scan History of QR Code (for ticketing)" feature to create customized QR codes.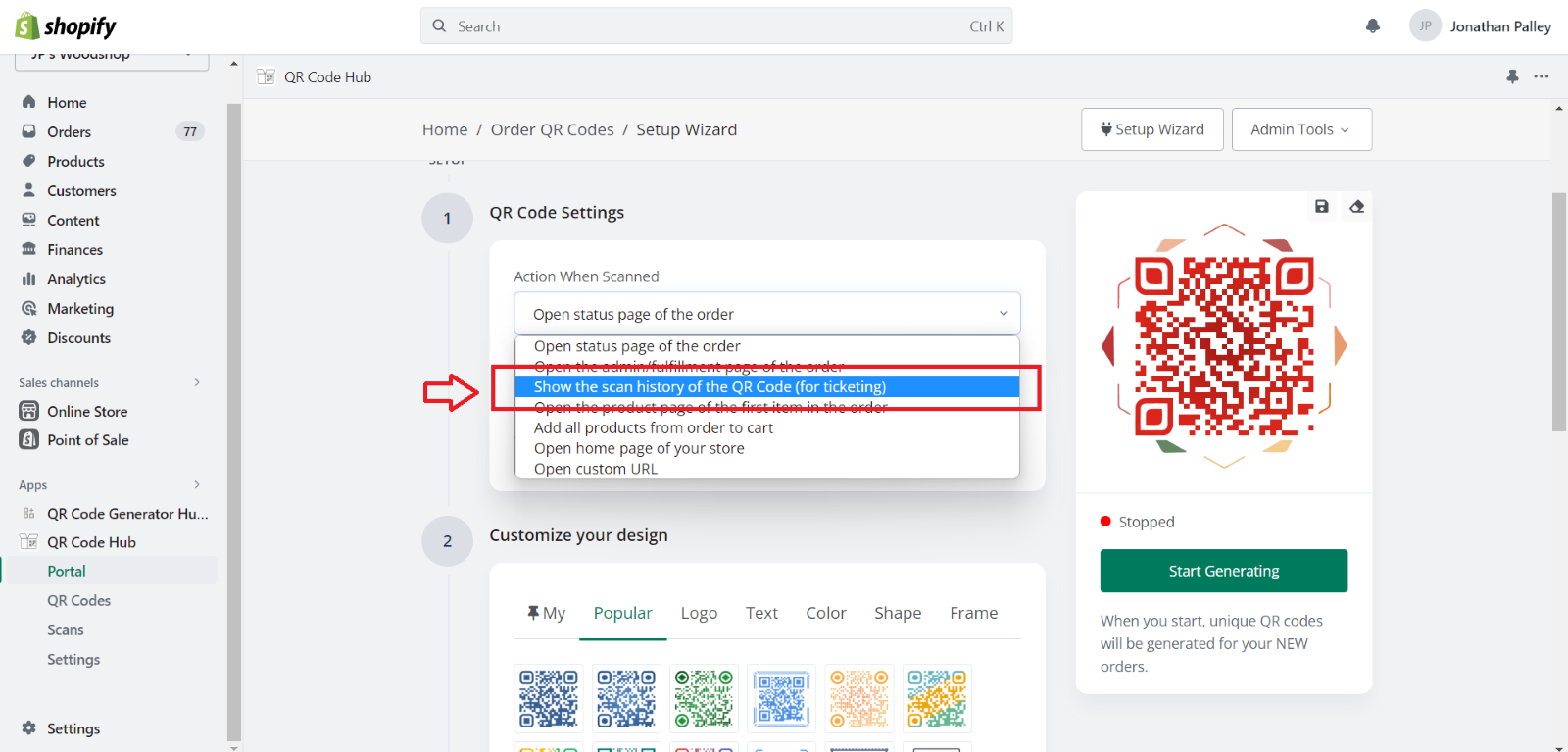 Here, you can specify the number of allowed QR code scans.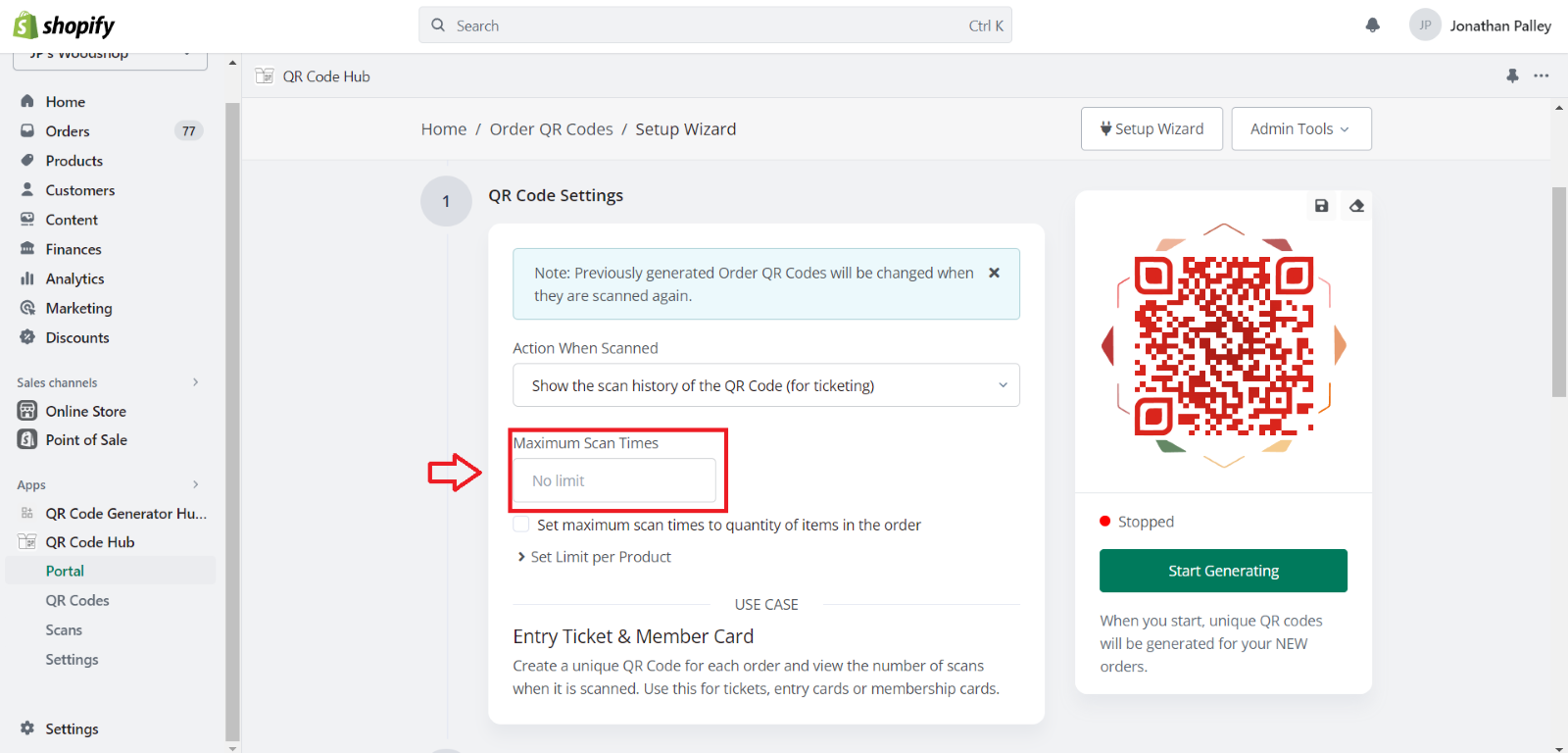 Step 3:
You can create dynamic QR codes with a wide range of colors, styles, logos, and even embedded order information - the possibilities are limitless!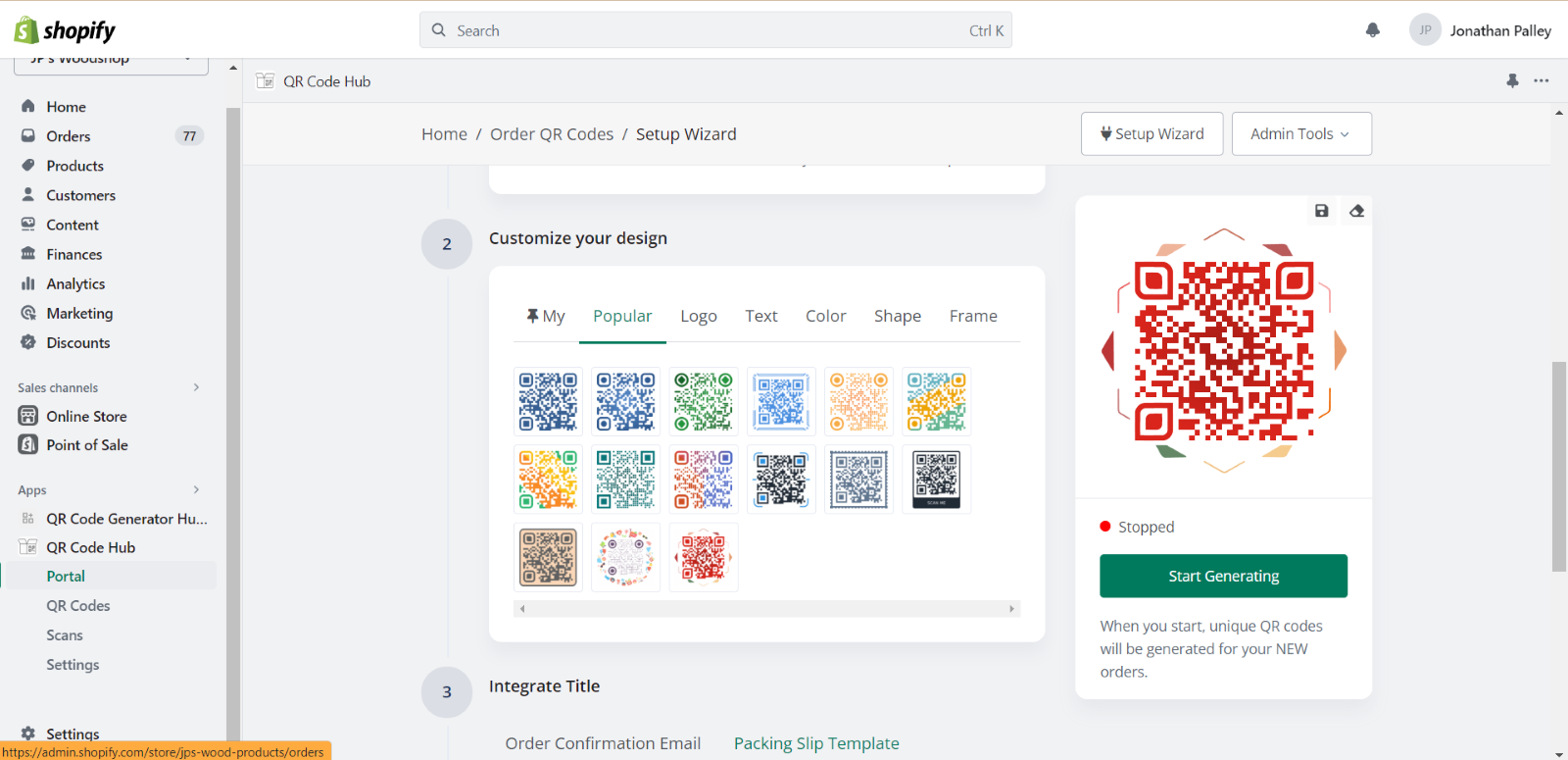 Step 4:
Once you've personalized the QR codes, effortlessly insert the generated code into your order confirmation email template. This way, your guests will receive personalized and visually appealing QR code tickets along with clear instructions for seamless event entry.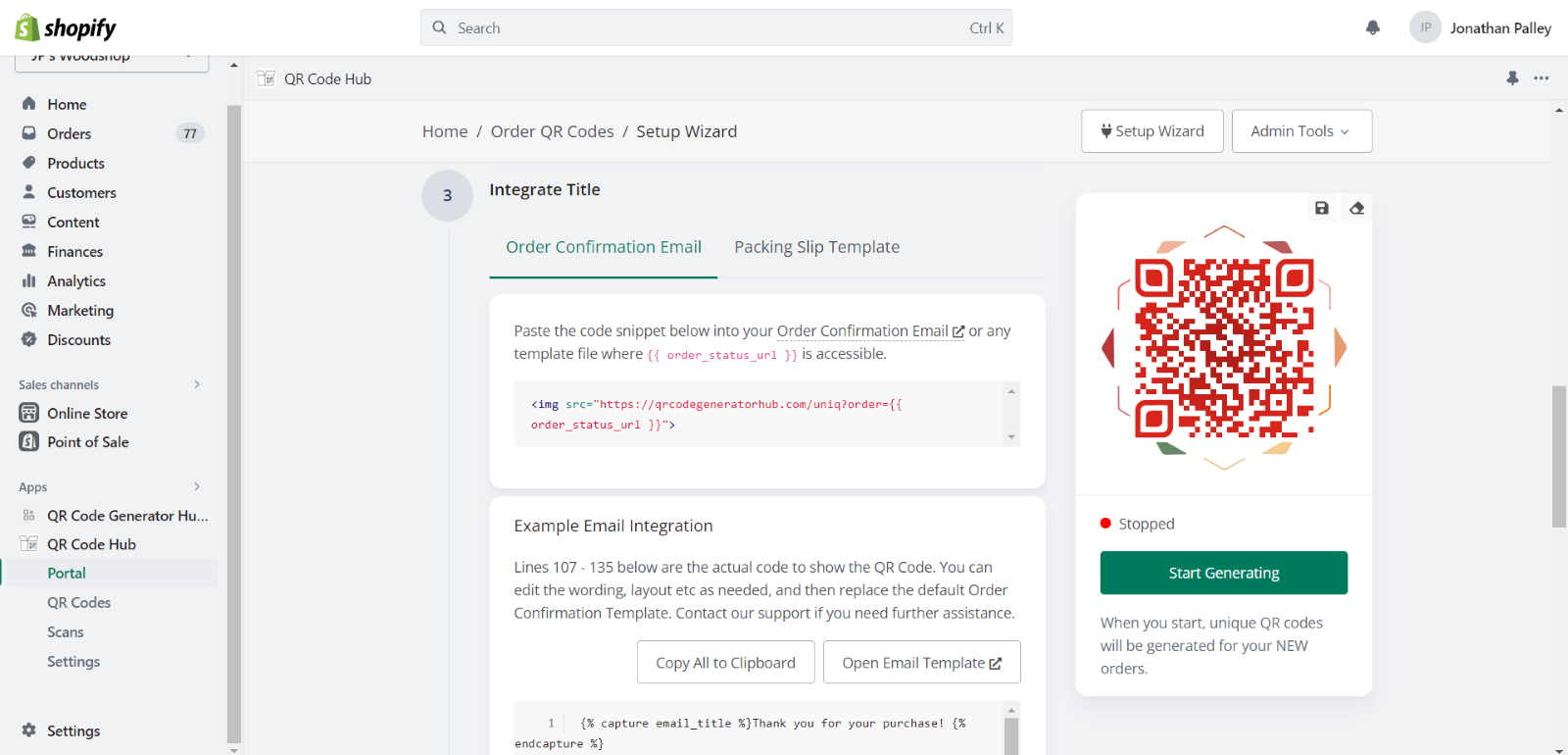 Step 5:
With your uniquely customized dynamic QR codes ready to go, it's time to seamlessly integrate them into your Shopify store. Just click the "Start generating" button and let the magic unfold.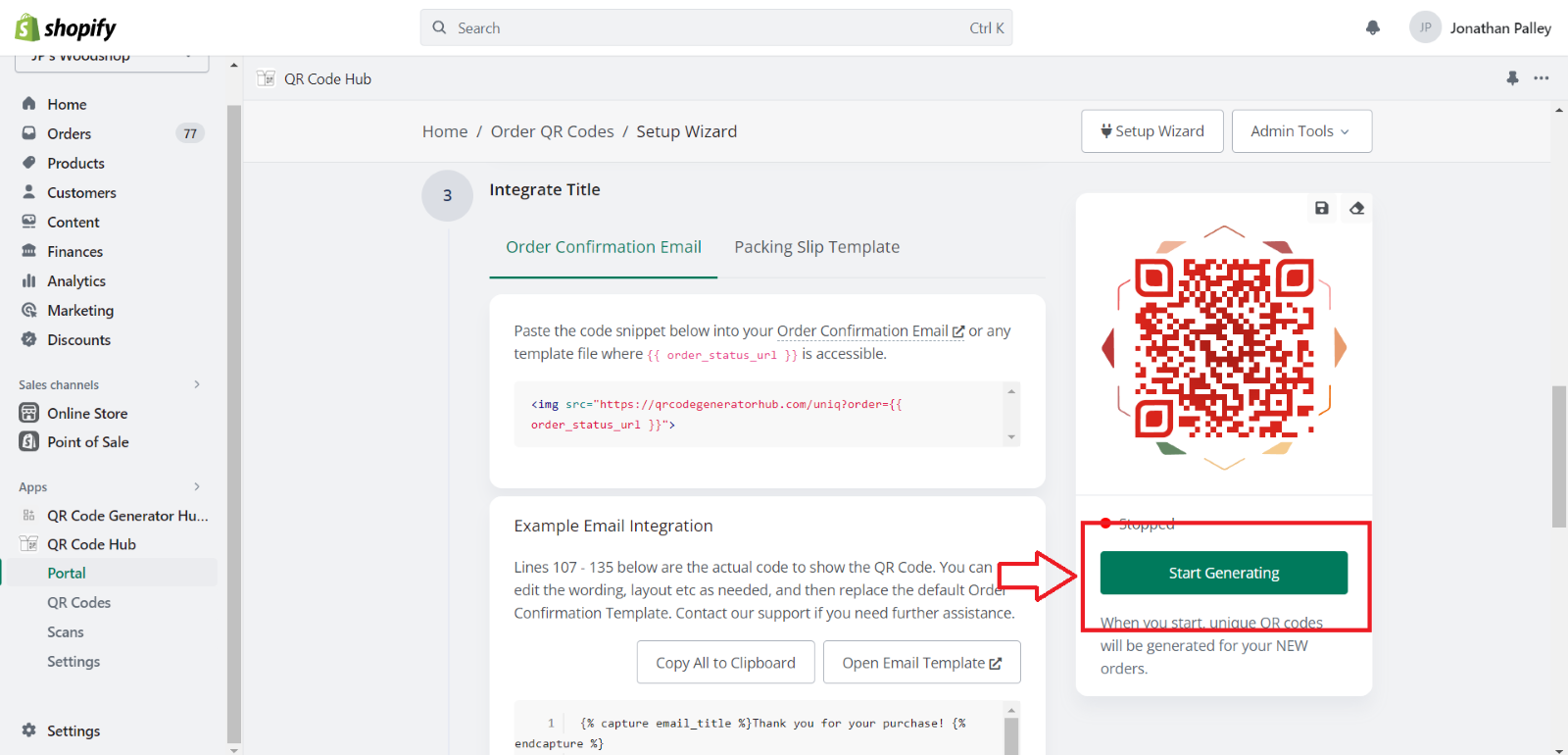 With these easy steps, your Shopify store will have a user-friendly QR code system, adding a touch of creativity and convenience to your event management. 
Tips for Effective Event Ticket Selling Using QR Codes 
To take your ticket-selling game to the next level, we've got some bonus tips to help your create unique QR code: 
Use Social Media Platforms: Boost event visibility by promoting it on social media platforms and sharing QR code ticket links. Engage with potential attendees and create a buzz! 
Offer Early Bird Discounts: Encourage early ticket sales by offering attractive discounts for those purchasing tickets in advance. Early birds get the best deals! 
Partner with Influencers or Collaborators: Collaborate with influencers or relevant businesses to widen your event's reach. Influencers can create excitement and attract new audiences. 
Run Contests and Giveaways: Who can resist a chance to attend a fantastic event for free? Engage your audience by organizing contests and offering free event tickets as prizes.  
Collect Customer Feedback: Improve future event ticketing by gathering feedback through QR codes. Learn from your attendees' experiences and make necessary adjustments. 
These are everything you need to know about how to effectively use the QR Code Generator Hub Shopify app.  
Bottomline
So can you sell tickets on Shopify with QR codes? The short answer is YES.


By customizing your QR codes and following the tips we outlined, you'll create a memorable event experience that attendees won't forget. So, go ahead and put this step-by-step guide into action to make your next event a massive success! 


If you'd like to learn more about selling event tickets on your Shopify store, don't forget to check out this
video
or our
blog posts